The set of this one-act "dark comedy" is Jane's bathtub. Jane finds it inhabited by a strange, Shakespearean woman, Ophelia. Ophelia delights in singing songs about death and valentines, and interrupting Jane's carefully planned fantasy research dinners with an actor named Edmund.  Jane has a hard time controlling her, especially when her brother Adam appears in memories – memories of a brother Jane would apparently rather forget.
At times very entertaining, and other times very serious and poignant, Drowning Ophelia is the latest production by The Acadia Theatre Company, and it's going to be an audience-dazzling experience. The last 18 months, as we know, has been difficult for businesses, community groups, health care workers and the arts community, but lately we've been able to see more audience participation and more shows and it's beginning to feel a bit normal again; and the Acadia Theatre Company couldn't be happier to welcome an audience back to their performance space.
Are you a fan of cheeky, dark humour? Are you a bit of a Shakespeare/ Drama aficionado? Are you just itching to see a meaty, yet funny show to support a troupe of young up and coming actors?  Drowning Ophelia is a show you can't miss.
Drowning Ophelia is written by Rachel Luann Strayer and was a Fringe Festival entry a few years ago. This presentation of Ophelia is directed by Acadia's Robert Seale, with a student-run backstage crew eager to take on this challenging work. The cast includes Lauren Amirault, Myles Bradley, and Claire Chateauneuf; Acadia Theatre Students diving into three of the most complex roles of their degrees and rounding out the quad is Wolfville resident, Mike Butler. Mike was asked to step into the cast to fill the need for an older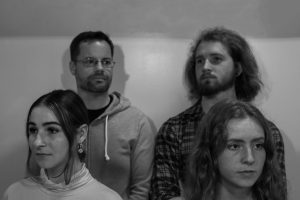 role in the production and as a well-known community theatre participant, Mike couldn't be more excited to be back on stage, watching and diving into how The Acadia Theatre Company brings theatre to life.
The characters of Jane, Ophelia, Edmund and Adam are a mix of the real and the fantasy and the audience is led on quite a journey. And, though Ophelia lives only in Jane's mind, she exerts, with her tub, a great and terrible pull over Jane's consciousness. Ophelia won't be silenced. Much of the play's drama derives from the slow unfolding of the mystery of Jane and Adams' relationship, and the past takes over eventually, enabling Jane and the rest of us have to finally look at what went wrong, and the cause of Jane's inability to function.
Which begs the question from Jane's own troubled mind: how do you move on when reconciliation is not an option?
There is always hope.
Drowning Ophelia will be performed the evenings of November 25, 26, 27, and December 2, 3, 4. There will be Matinee performances on Sunday November 28th and Sunday December 5th.
Drowning Ophelia is being performed in Lower Denton, on the Acadia Campus with all current Covid Protocols will be in place. Tickets will be available through the Acadia Box Office or contact Katie Holmes with questions at [email protected] Thank you for supporting the return of the Acadia Theatre Company.