WOLFVILLE, N.S. – The defending AUS champion Dalhousie Tigers swept the host Acadia Axewomen 3-0 in the AUS regular season opener at Acadia.
Tigers' Subway Player of the Game, Julie Moore, posted a game high 13 kills and a 0.286 hitting percentage to lead Dalhousie to a three set win.
Mieke DuMont posted 7 kills and 7 digs. Defensively, Moore and Catherine Callaghan had 11 digs each and Moore led with three service aces.
Sarah Ross and Lauryn Renzella each added 8 kills for the Axewomen, while Renzella added 10 digs. Willow Gedlaman, from her setter position, had 20 assists, while her counter-part Courtney Baker for the Tigers had 32.
"Each day we learn how we can be better, whether it is technical, tactical or system based. We didn't play our best volleyball today and in a team sport we must rely on a contribution from everyone, in order to be successful. We will look to compete consistently tomorrow," commented Acadia head coach Michelle Wood following the match.
In the Axewomen's second game of the opening weekend, the Saint Mary's Huskies posted a 3-0 sweep over the Acadia Axewomen Saturday night from the Homburg Centre in Halifax.
The Huskies took the three sets 25-20, 25-14, 25-14.
Lucy Glen-Carter paced the Axewomen's offence with 12.0 points, 11 kills and 33 total attacks in the loss, as Acadia drops to 0-2 on the year.
Lauryn Renzella finished with six kills and Sarah Ross and Sydney Tonner each had three for Acadia.
Anna Watt led SMU with 21 total attacks and a trio of Huskies had seven kills apiece: Lindsay Donovan, Kristina Alder and Watt, while Emilla Conlon had 32 assists in the victory.
Saint Mary's improves to 1-0 early on the year and visit 1-0 Dalhousie Sunday October 29th at 1pm, while Acadia travels to 0-1 UNB Saturday November 5th at 7pm.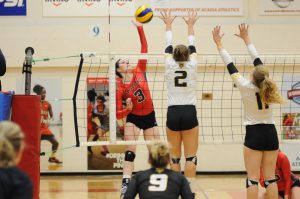 Contribution by Dominic Nolasco, SMU Communications