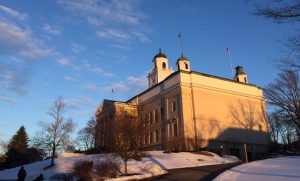 Given our recent snow day, the flurries freckling our faces remind us to enjoy the Acadia winter experience to the fullest. Some look at winter as the never-ending season of cold; however, winter provides a new selection of riveting outdoor activities and cozy indoor ones. During the chilly season, people occasionally experience Seasonal Affective Disorder, depression routed from the change in season. Winter, especially, brings darker skies and time changes that leave the mornings bright and evenings dull. 
The best way to take advantage of the shift consists of winter festivities and treats. Hop into a local coffee shop to try a decadent hot chocolate and nab friends to go sledding with. Activities geared towards children, such as snowball fights and sledding inflict warm memories and giddy laughter. Transporting to younger days brings about a care-free feeling that makes for the ultimate stress-reliever from heavy schoolwork.
As for cozy activities, all the time you spend indoors avoiding the snow-filled air and slushy roads may leave you feeling cooped up in your home. To balance your indoor VS. outdoor time, take yourself on a walk for fresh air, and afterwards, queue up a movie and bake cookies (pre-made or not) or any suitable indulgent treat and watch as the snow falls outside. Just because you are sitting inside does not mean you cannot enjoy your time as much as when participating in an icy adventure. 
Speaking about icy adventures, the Acadia Athletics Complex has a free skating rink ready to use. Beginners should feel equally welcome, and the front desk offers skates available upon request along with helmets. Their weekday skating times on the Acadia University Recreation website state their availability as 1:15 pm-2:15 pm Student Shinny and 2:15 pm-3:15 pm for Student Free Skate & Figure Skating.
Given Acadia's recent re-opening of the pool at the Athletics Complex … if snowy activities aren't your go-to, and you are looking to remind yourself of warmer days packed with swimming, feel free to book either a lane (45-minute time-slots) or register for open swim. To book, either visit their online website: https://acadiau.legendonlineservices.ca/enterprise/account/login or call: (902) 585-1568 
Acadia offers plenty of options to keep busy during the chilly season –whether that be indoors or outdoors. So, feel free to explore all Acadia has to offer 😊