The Acadia Theatre Company presents Heathers, The Musical written by Laurence O'Keefe & Kevin Murphy. Directed by Robert Seale, Musical Direction by Paula Rockwell, Choreography by Susan Barratt.
Based on the cult classic film of the same name, Heathers is the darkly delicious story of Veronica Sawyer, a brainy, beautiful teenage misfit senior at fictional Westerberg High. Veronica longs to be cool – like the clique of girls that runs Westerberg: the unattainable Heathers. Unfortunately, in addition to their awesome levels of "popularity," the Heathers are also the most powerful and ruthless clique of Westerberg High, choosing to mock and bully their kingdom into submission. When Veronica uses her skills as a forger to get the Heathers out of detention, her hustle impresses their leader, Heather Chandler – so much so that they agree to let her into their exclusive club at the top of the high school food chain! At first Veronica is thrilled. . . until she finds out that being one of the Heathers means bullying her life-long best friend, as well.
Meanwhile, Veronica finds herself attracted to a mysterious and dangerously sexy new kid at school. . . Jason Dean (JD). When a questionably innocent(?) drink mix-up results in the accidental poisoning of Heather Chandler, JD convinces Veronica to stage Heather's suicide. The results are so successful that JD exhilarated and in love, resolves to rid Westerberg of anyone else who threatens Veronica. With raw, edgy, and culturally relevant numbers like "Beautiful," "Candy Store," and "Yo Girl," Heathers is a hilarious, heartfelt and homicidal new show. With its moving love story, laugh-out-loud comedy and unflinching look at the joys and anguish of high school, Acadia Theatre's Heathers will be a MUST see! PLUS. . . students from across campus are performing – and professors!!
November 21, 22, 23, 26, 27, 28, 29 & 30 at 7:30pm and November 24 & December 1 at 1pm, Lower Denton Theatre, Acadia University. You can purchase your tickets at the Acadia Box Office (902) 542-5500, or online at http://boxoffice.acadiau.ca.
Warning: language and mature themes.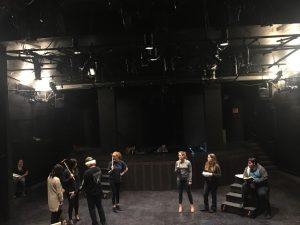 A behind-the-scenes look at a Heathers rehearsal. The cast and crew are hard at work to put on what is sure to be an amazing show. Stay tuned for a review of the show in its opening week!