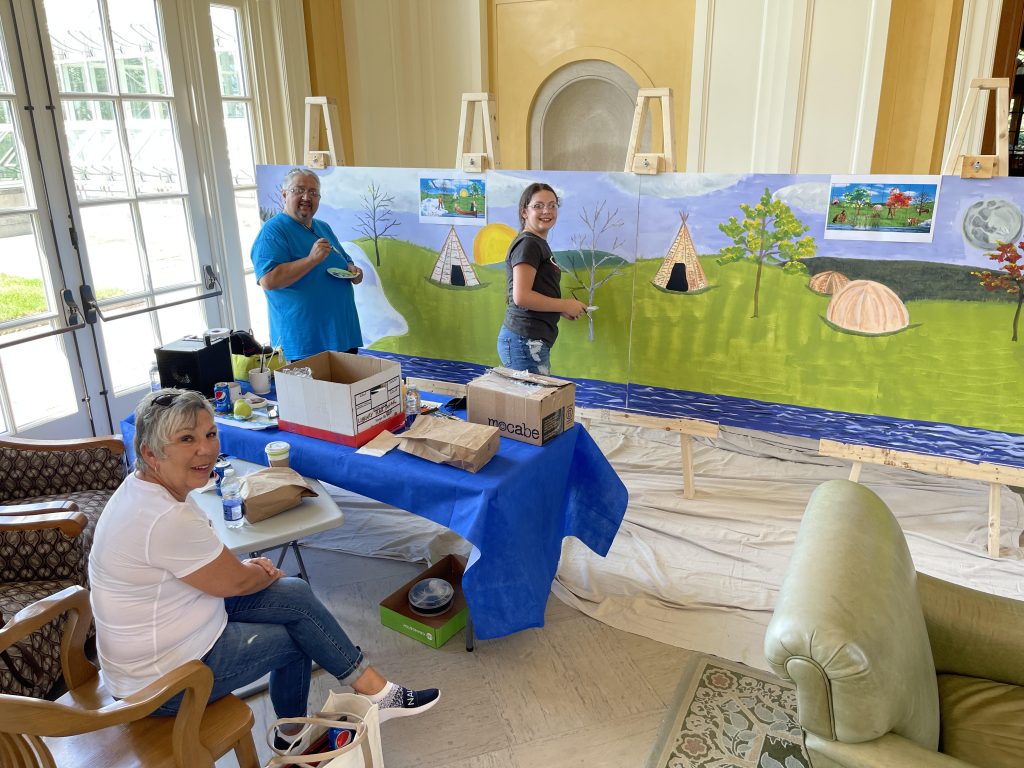 Lily-Beth Fischer is a 12-year-old girl who decided to paint a mural. "This mural represents a timeline of the seasons", Lily-Beth says, "So far all we can see is the background. We will be adding more elements to it before the big reveal next week." Gerald Glaude, a good friend of Lily-Beth's great Uncle Basil, spoke about how everything is tied together. "In our culture," he said, "the number four has great significance. There are four seasons; fall, winter, summer, and harvest; which are represented by the four colors of the medicine wheel; black, white, yellow, and red." There is meaning in every part of this mural, every brushstroke tells a story. The official unveiling of the mural will take place on October 4th here at Acadia. While Lily-Beth painted, her grandmother Lorraine Whitman, who is the president of the Native Women's Association of Canada (NWAC), spoke to a Canadian Politics class at the K. C. Irving Garden center.
When asked about her thoughts on this first recognized Truth and Reconciliation day, she stated that, "Everyday should be a day of truth and reconciliation." She went on to explain that not all provinces will be observing this day, but she knows that within each province there are allies. In her speech, Lorraine Whitman made the distinction between a partnership and being an ally. Lorraine Whitman said, "I like to explain it with a scenario. Imagine you are travelling somewhere. There is one path that is paved and has few obstacles, and another that is a river filled with rapids. Indigenous people navigate the river on their own in a partnership, having to go through the rapids and navigate obstacles. In a partnership, those who are said to be supportive are in their fancy cars on a paved road and drive with ease." She went on to say, "An allyship, on the other hand, is when we all get into the canoe and work together. Instead of Indigenous peoples going through the rapids alone, allies are there to help and support." 
Indigenous people and their culture have been subject to countless injustices throughout history. Recently the government has formally acknowledged what Indigenous people had known all along; that countless children have been killed in residential schools and never came home. This is horrifying, and must be acknowledged. Right now, there is a crisis of missing and murdered Indigenous women and it is not getting the attention that it needs. No one has paid for these injustices and so many promises have been broken.
The truth must be spoken and acknowledged for there to be some semblance of healing. When the truth is spoken, we must listen, show compassion, and ask questions. Educating ourselves on what Indigenous peoples have gone through is the first step to working together towards reconciliation. Raise up Indigenous people and don't assume their stories. Let them speak.
Lily-Beth Fischer is speaking through her art. Let us listen. Search for the many meanings in her mural. The grand reveal will take place on October 4th. Watch for updates and further information on the Acadia facebook page and in your school email.
September 30th is Truth and Reconciliation day, on which we will have no classes. There will be opportunities to get involved in supporting the Indigenous community and culture in Nova Scotia. Let's be allies and climb into the canoe.
To learn more about the history and current issues that impact Indigenous people daily, visit nctr.ca. To learn more about Lorraine Whitman's work with the native women's association of Canada and murdered and missing Indigenous women and girls, visit nwac.ca.