Excellence. Engagement. Enlightenment.
These three words will be at the centre of Acadia's newest strategic plan. Tentatively titled Acadia 2025, President Ricketts presented the framework of the plan on March 14th in Huggins Science Hall. The goal of the plan is to provide the university direction up until 2025. This fulfills a promise Ricketts made while vying for the presidency.
The first stages of Acadia 2025 are to formulate goals, establish priorities, and determine how to measure impact. This will include reflecting on Acadia's current environment and its strengths, in addition to testing the resilience of the 2006 Strategic and 2015 Senate Research plans.
There are many environmental realities the university will have to contend with. Fiscal constraints are paramount, with no annual increases in provincial funding or tuition beyond current levels for the foreseeable future. Acadia will not take on any more debt as the 18-25 cohort in Atlantic Canada declines, while recruitment is becoming increasingly competitive and expensive domestically and internationally.
External expectations have been set for Acadia. There are louder calls from both provincial and federal governments to make sure students are "career ready" for the 21st century economy. Acadia will also have to respond to the Truth and Reconciliation Commission in meaningful ways, which President Ricketts has already begun.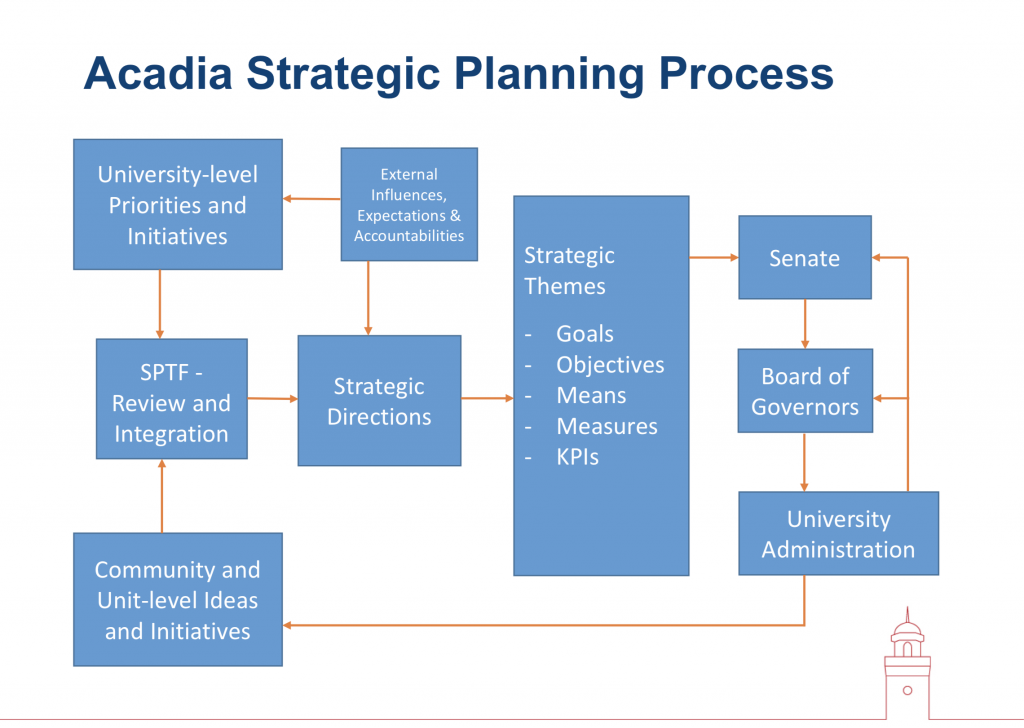 Governments see universities as strong net contributors to the provincial economy and Atlantic Growth Strategy, with the immigration of high quality people a priority for Nova Scotia. Ricketts noted that there is a necessity to cultivate an image that universities are beneficial to the Maritimes, running contrary to popular perceptions in the 1980s.
Creating Acadia 2025 will be a collaborative effort. The Strategic Planning Task Force (SPTF) will form strategic directions for the first steps of the plan, informed by external expectations and accountabilities. The SPTF will work to develop a strategic directions document, which will form the next phase. The second step will be crucial to identifying goals, objectives, means, and measures for success.
March-June 2018 will serve as Phase 1 of Acadia 2025. This phase is tentatively titled the 'Ideas for Acadia' phase. Town hall sessions will be conducted with faculty, staff, the University Senate, and Board of Governors to solicit ideas. The goal will be to create an Acadia ideabook and word cloud based on the submissions, with feedback and suggestions on possible visions, values, and mission statements encouraged.
June-December 2018 will serve as Phase 2. This phase is tentatively titled the 'Strategic Direction' phase. The SPTF will be appointed to create an ideabook, and 'Acadia Circles' will be created to address themes, identify goals, objectives, and routes of action. A small number of external circles (E-circles) will be created to engage external communities in the strategic planning process. A strategic directions document will then be developed to outline the proposed themes of Acadia 2025.
January-April 2019 will be Phase 3. This phase is tentatively titled the 'Drafting Phase'. The SPTF will conduct more consultation at the departmental and unit level to solicit feedback in hopes of producing a draft strategic plan to submit to the President for review.
April-June 2019 will be Phase 4, the final phase. After review by the Senate, Board of Governors, and President, the final plan will be approved. The President will then be responsible for ensuring its implementation and accountability.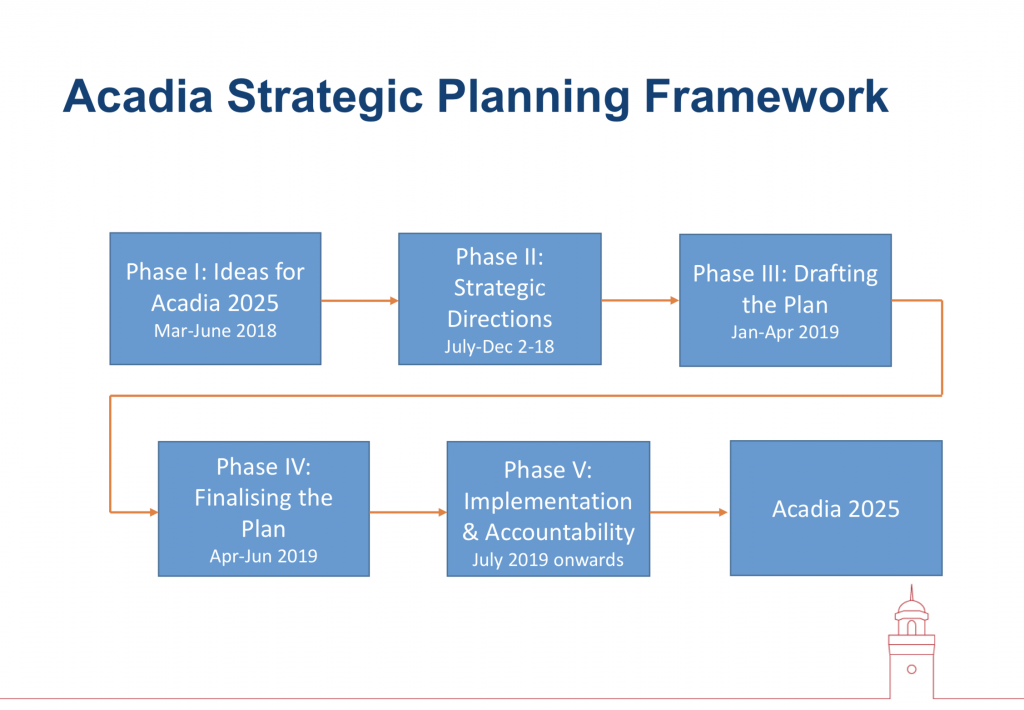 Acadia's last strategic plan was completed in 2006, with the values of excellence in scholarship, close community, personal responsibility, and leadership as defining pillars.
The 2006 plan also identified five features that made an Acadia education distinct. These were:
Personalized attention to students as learners

Undergraduate research

Education of the whole student

Focus on the environment and social issues

Emphasis on responsible, global citizenship
However, shortly  after 2006, things took a turn for the worse. The provincial government reduced annual revenue by $6.8 million which led to unavoidable operating deficits, budget reductions, and staff and faculty cuts. Limited flexibility within the institution pushed enrollment to a low point in 2008 with around 2900 full time undergraduate and graduate students, a far cry from the approximate 3800 enrolled today.
The combined impact pushed Acadia into survival mode. The university went from receiving 10.5% of the funds from the provincial system to 8.5% of total funds, a drop that President Ricketts noted would "normally sink even the best organizations".
By the 2007/08 academic year the university had accumulated $5.3 million in operating deficits and $70 million in long term debt, plus two faculty strikes, leadership change, major brand damage, and a 2% reduction from the provincial government.
The strategic response by the university was meant to restore fiscal responsibility. This was achieved by reducing operating expenses, eliminating permanent positions, selling assets and reducing long term debt, and transferring to the provincial pension plan by dissolving Acadia's. These initiatives  were combined with efforts to recover lost provincial grant funding, increase operating revenues from tuition and other fees by reversing the decline in enrolment, and increasing external revenues from fundraising.
The focus on student recruitment allowed for a rebound to healthy enrollment. Currently, 47.8% of students are from Nova Scotia, 39.7% from the rest of Canada, and 12.5% from 59 countries around the world.
Labour stability, achieved during November 2017, plus donor stability, stabilization of funding from the province, and the adoption of a Senate Strategic Research plan in 2015 demonstrated that Acadia was able to make it back from crisis to full strength.
Ricketts noted during his presentation that Acadia is "the jewel in the crown" of the Canadian university system, providing enriched learning environments, undergrad and graduate research, environmental stewardship, and global outreach at a level other institutions cannot.
Comments and suggestions are actively encouraged. Click here to visit the Acadia 2025 website to learn more.