Axemen at UNB – Friday, October 27
One week after suffering a 3-2 overtime loss in Wolfville, the UNB Varsity Reds handed the Acadia Axemen a 7-2 loss.
Freshman forward Kris Bennett scored twice and added three assists to the lead the Varsity Reds. He was named the Subway Player of the Game.
Stephen Anderson (Morell, PE) had two goals and two assists, and Mark Simpson scored twice. Olivier LeBlanc also had a goal for UNB.
Boston Leier and Stephen Harper scored for the Axemen.
Acadia's Alex Lepkowski took UNB's Chris Clapperton hard into the boards.
Clapperton lay motionless on the ice for several minutes before being taken off on a back board. Lepkowski was assessed a five minute penalty for boarding and a game misconduct.
"You just hate to see that in sports," said Axemen head coach Darren Burns. "We want to compete, but you never want to see a guy get injured."
Bennett opened the scoring on the ensuing power-play.
Leier tied the score 1-1 early in the second before Bennett and Simpson scored 45 seconds apart as UNB built a 3-1 lead.
A four goal third period was too much for Acadia to overcome.
Burns feels his team started well, but couldn't recover from UNB's quick strikes midway through the second period.
"Obviously that bang, bang, that opened the flood gates a little bit and we got outside our structure, what we need to be successful, from there," he said.
Alex Dubeau stopped 13 of 15 shots in the UNB net, while Robert Steeves made 36 saves on 43 shots in the Acadia net.
The Axemen dropped to 4-2-1 and tied for the third place in the AUS, before visiting UPEI on Saturday.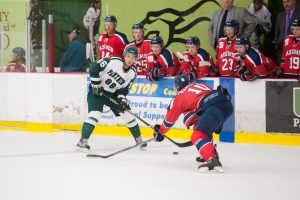 Axemen at UPEI – Saturday, October 28
The Acadia Axemen surrendered their lead three times, but held the Panthers down long enough to escape the Island with a 7-5 win Saturday night.
Subway Player of the Game Samuel Fioretti scored the game's first and last goals, while teammate Kyle Farrell scored a pair as well to lead the Axemen to victory.
Boston Leier finished with four points on a goal and three assists, with Owen MacDonald and Rodney Southam finding the back of the net for the other two.
"We played hard but there are things we need to sharpen up," Fioretti said. "We just stuck to it and we didn't quit when they started to get momentum."
"We got goals here and there, but then we let up a bit and took our foot off the gas," Fioretti said, "I think a lot of it is discipline too. We took some penalties, which allowed them back in the game. It's definitely something we're going to focus on moving forward."
The Panthers look to snap their five-game losing streak on Nov. 1 when they travel to Moncton, N.B. to take on the Université de Moncton Aigles Bleus. The Axemen, who improve to 5-2-1, return home to host the 2-5-1 Dalhousie Tigers this Wednesday evening starting at 7:00 p.m.
Contributed by Andy Campbell (UNB Athletics Communications)  and Thomas Becker (UPEI Athletics Communications)