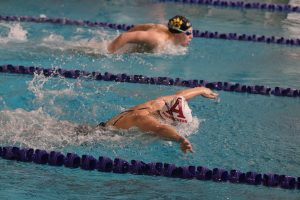 WOLFVILLE, N.S. – The Acadia swim team wrapped up their second meet of the season with a second place combined finish at the ninth annual Jack Scholz meet hosted at Acadia University.
Despite a great performance by the women's and men's team throughout the two day meet, Acadia finished second to the Dalhousie Tigers.
The Axemen and Axewomen collected 37 top three finishes to show their developing strength both individually and as a team.
Some of the key wins were senior swimmer Adam Deutsch, who picked up double victories in the 100m and 200m breaststrokes.
Single wins came from Jessica Pelletier in the 50m backstroke, Ali MacEachern in the 50m freestyle, Patrick Henger in the 100m butterfly, Hannah Doiron in the 100m breaststroke, Brett Liem in the 50m freestyle and  Ben Henger in the 100m butterfly.
The men's relay teams put Dalhousie on notice as they came ever so close in both the 4x50m medley relay and 4x50m freestyle relay, losing by inches.
"From the get go, the team was ready to show just how hard they have been working. The results started to pay off quickly. The biggest improvement came with 8 victories with close finishes in both men's relays which could have gone either way," said head coach Gary MacDonald after the two day event.
"The team has two more weeks of tough training and then a full rest and shave to get ready for our first championship format meet which will take place at Dalhousie. It should be a very exciting competition," added MacDonald.
The Swim team will wrap up the first half of the swim season on the weekend of November 17-19 at Dalhousie in their third competition of the season. The AUS Championships will be hosted by UNB at their UNB Saint John campus on February 9-11, 2018.
Acadia Medal Winners:
Jessica Pelletier               2nd 100m backstroke, 3rd 200m backstroke, 1st 50m backstroke
Walter Guiscardo            3rd 100m backstroke
Alison MacEachern         2nd 50m butterfly, 2nd 200m butterfly, 3rd 100m butterfly, 1st 50m freestyle
Kelsea Vessey                  3rs 50m butterfly, 2nd 400m freestyle, 3rd 100m freestyle, 2nd 100m butterfly
Patrick Henger                 1st 50m butterfly, 3rd 100m butterfly, 3rd 100m butterfly
Isaiah Grambo                 3rd 50m butterfly
Hannah Doiron                3rd 200m breaststroke, 3rd 50m breaststroke, 1st 100m breaststroke
Brett Liem                         3rd 200m breaststroke, 2nd 100m freestyle, 2nd 100m breaststroke,
1st 50m freestyle
Adam Deutsch                 1st 200m breaststroke,  1st 100m breaststroke, 2nd 200m individual medley,
3rd 50m backstroke
Guy Harrison-Murray     3rd 400m freestyle, 3rd 100m freestyle, 2nd 200m freestyle
Brendan Vibert                2nd 50m breaststroke
Ben Henger                      3rd 200m individual medley, 1st 100 butterfly,3rd 200m backstroke
Joshua Nowlan                3rd 1500m freestyle
Kristin MacKinnon          3rd 50m freestyle
Collin Reynolds                3rd 400m individual medley