Acadia Varsity Swimming begins an exciting new chapter with the hiring of new Head Coach Kris Bell for the 2021-2022 season. Bell has over twenty years of coaching experience in the swimming and triathlon world, as well as over a hundred national records to his coaching name. Kris, who is an avid cyclist, comes to Acadia from Toronto, and along with his family, has made Wolfville his home. "I'm very proud to be a part of such a great group of people," Bell said. "What I want to do is build a future of diversity within the athletes and the program."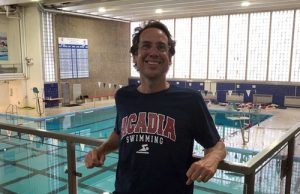 Aside from his impressive coaching resume, Bell brings to the table outreach plans for the varsity swim team, and says he looks forward to community programming. "I want Wolfville and the surrounding townships to be proud of the team, to the extent where we become a team to really watch and support. I want to add to the community and make our presence known." Bell adds that he wants the Acadia swimming program to branch out even further in Canada, adding recruits from more provinces. "I want to put Acadia on the map as a swimming school," he says.
Acadia Axemen and Axewomen will return to in-person competition for the first time since February 2020 in October for the Jack Scholz meet, hosted by Acadia on October 16th-17th. The team will compete in five meets this season through to the AUS Championships on February 11th-13th, hosted by Memorial University in St. John's. The Axemen will look to defend their AUS title, while the Axewomen will be aiming to claim their own banner in the company of half a dozen excellent new rookies to contribute to the team. 
Owen Landry from Dartmouth returns to the Axemen varsity team for the 2021-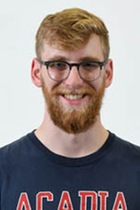 2022 season in his final year studying kinesiology. Landry, who excels in the butterfly, backstroke, and individual medley strokes, is planning on pursuing a Bachelor of Education and hopes to become a physical education teacher. "I'm very excited for what this year is going to be like and to be able to train to compete again," Landry said. "The team we have this year is one that motivates me and pushes me. I love the team dynamic that we have this year! I'm also super excited to have Kris
here and to see how the year goes."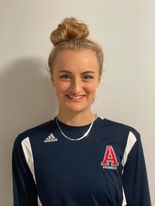 Grace Earle of Halifax is one of the Axewomen's new rookies for the 2021-2022 season, and is also studying biology. Earle, a jack-of-all trades who mainly swims the backstroke and both sprint and distance freestyles, looks forward to competing for Acadia. "I have really enjoyed swimming with Acadia so far," she said. "As a rookie, I felt welcomed into the team right away as soon as I joined. In training, there is always so much energy and support from my teammates and coach, and that makes it an ideal training environment. I am looking forward to working hard and swimming my best for Acadia."
Be on the lookout for a great season from the Acadia Swim Team with an excellent new Head Coach and a strong recruiting year!