The effects of COVID-19 on athletes this semester have gone unspoken. The Axewomen and Axemen of 2020-2021 have remained strong and acted as a shield of strength for students to admire and celebrate, even without the usual games and competitions we love to attend with Acadia pride. Now, we must learn Acadia pride in a new context; together, our student body can rally together even without a game because this year, we all fight for the same cause: safety. The new COVID-19 procedures Acadia has implemented to keep not only athletes and students but our NS community safe have protected our school; however, rules concerning isolation lead to imminent effects on mental health. This sports and wellness article invites a guest writer, Jessica Pelletier, to share her experience in a vulnerable way to our Acadia school. Jessica swims for the Axewomen swim team, and COVID-19 has drifted her into a different direction for her 2020-2021 athlete experience. Thank you for sharing both your struggles and your uplifting attitudes for qualities of endurance, not always primarily in sports, but life.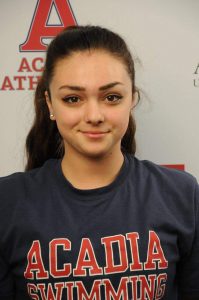 "COVID-19 affected my team and I's experience tremendously. Natural skills and short-term motivation no longer count for athletes; sports now depend on the patience and drive each athlete develops within their sport. In swimming, we have no competitions within this pandemic realm; for some of us, the lack of opposition affects our motivation as an athlete. Competitiveness is a common trait we possess. Athletes with a competitive drive experience an increase in patience and develop an inner motivation, which switches how athletes focus on sports. Sports consist of patience via practices and finding an inner motivation to continue what we love, even though a huge piece of the action is missing this year. I have been more fortunate than my other teammates since I had the opportunity to train with the UNB team early on, but the challenging part is that I miss training with my teammates.
 I am very much a social athlete, so training separately from my teammates in a time like now causes strain, as I rely on them for support and strength. Having a long break from training, having my time free, then proceeding to ease into my regular training schedule was tough, so that is where the motivation comes into play. I had to develop a strategy and motivation to continue individually. For me, my motivation stays for myself and my team to work on the basics and help myself refine my stroke with the time given. Having a free schedule for so long only to fill back up feels stressful and exhausting. Manifesting motivation is what keeps athletes in their respective sports. Patience views as a trait you learn, and COVID-19 tests the ability to sustain your patience.
Without patience in a time like this, athletes leave the sport they love out of the uncertainty the world has given us. With no time limit to this pandemic, the unknown future changes the way athletes must strategize and train, as impatient athletes see no point in showing up to workouts when it has always been the foundation to achieving goals. Developing patience while training remains vital for all athletes now, and the focus on setting time-related goals like 'I want to achieve this standard by the end of the year' or 'I want to win against this particular team' will not be possible for quite some time. Developing healthy goals within training without expiry date will be a healthy way to remain competitive without competitions this year. The atmosphere within a sport is certainly uncomfortable and changing. We need to adapt to our new situation, no matter what. It is no longer about who has the natural talent and competitive drive, but who has the inner strength to be patient, responsible, adaptable, flexible, and develop a motivation to continue. The COVID-19 pandemic has challenged every athlete, but the real challenge is within us to stay active, patient, and motivated to continue what we love doing the most."