Spooky season has come and gone but the memories are still fresh in our minds. Over the years, one of the staples of Halloweekend has been watching our favorite celebrities' outfits. Some have important and impactful political messages while others pay homage to various influential figures. No matter the reason for the costumes, so many are just insanely creative and fun!
First up we have Harry Styles, and might I just say wow, this was amazing! Harry held a concert at Madison Square Garden on Halloween Weekend, which has become known as "Harryween".  Harry revealed his Wizards of Oz theme, dressing in custom Gucci as the iconic Dorothy.  Members of his band also partook by dressing as characters from the classic film including the Tin Man and the Lion. On Sunday, Harry went as the clown from the Oz movie, which was very festive but arguably not as iconic as his Dorothy getup.
Second, we have Hailey Bieber's four-part shoutout to Britney Spears. Bieber recreated some of Britney's most iconic outfits. This includes her pajama themed Rolling Stone cover, the schoolgirl uniform for "Baby One More Time", the red jumpsuit for "Oops I Did it Again" and the pink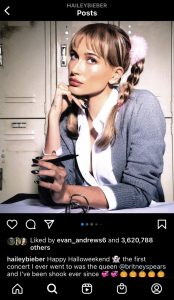 lingerie paired with leather leggings from the "I'm a Slave 4 u" music video. The 24-year-old model posted her looks to Instagram with the caption "Happy Halloweekend 👻 the first concert I ever went to was the queen @britneyspears and I've been shook ever since 💞💞🎃🎃🎃🎃🎃🎃🎃🎃". This comes quite soon after the Netflix release of "Britney vs Spears", an investigative film detailing the conservatorship that has kept Britney from having an independent life for the past 13 years. 
On another note, Doja Cat was seen rocking a plunge-neck red blouse coupled with a red pencil skirt and a large buckled black belt. With this costume, she brought Sara Bellum from the 1990s series "Powerpuff Girls" to life. The following night she followed her 90s cartoon trend and went as Cynthia from "Rugrats".  Both costumes were amazingly accurate to the character inspirations.
Finally, the original members of David Dobrik's Vlog Squad, Zane Hijazi and Heath Hussar executed a group costume with the cast of their podcast "Zane and Heath Unfiltered". The pair, along with co-hosts Mariah Amato and Matt King, announced season three of their podcast "Unfiltered" in style by recreating the classic "Anchorman: The Legend of Ron Burgundy" group pose.  
How did they do? What were your favorite celebrity costumes? Also, what did our Axmen and Axewomen dress up as? If you would like to submit a picture of your halloweekend costume, feel free to send them to a member of the Athenaeum to be included in a future piece!