On Monday, October 4th, 2021, an internal system error resulted in an unprecedented social media blackout across Facebook, Instagram, and WhatsApp. These platforms went dark for approximately 6 hours, leaving its users unable to use their apps for essential communication and business.
This is probably not news to you. We use these platforms to stay in touch and get important campus updates, often filling our spare time with social media. I was quite surprised to see how often I reached for my phone that day. This shutdown opened my eyes to the important role social media plays in my social life and how disconnected I felt without it. 
 Social media, however, has a much larger function in our society than just filling our empty time. For many, it has become our main source of communication. Businesses often use these platforms for advertising, while many other websites are reliant on Facebook's login information to function. Here at Acadia, we get campus news and updates about activities via these platforms.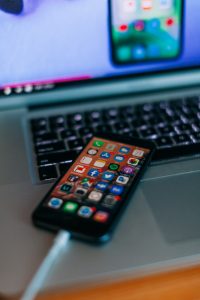 Like it or not, social media is intertwined in almost every aspect of our lives. There was a  whistleblower study about Instagram and its harm to young users that may have played a role in this shutdown. This is a wakeup call, and we need to be aware of how these platforms may be impacting us. They facilitate so many things; communication, advertising opportunities, and a way to stay connected even when we are apart. Personally, I have been using it since arriving at Acadia to keep in touch with family and friends from back home. 
There are undoubtedly negative aspects as well; spending so much time on it can cause you to be isolated, and the perpetuation of negative self-image are two prominent areas that raise concern. An article by James Vincent reviews recent internal studies at Facebook and Instagram and gives much more detailed information about their platform's potential harm. 
This is not to say that social media is terrible and not worth our time. Instead, I am writing this as a reminder to stay vigilant and be aware of how attached you are to your technology. Recognize the good it does, but don't ignore its potential harm. Being aware is the first step to making social media a safer place for everyone.