Steam covers the windows as the kitchen begins its daily cycle. The first pan of onions is caramelized and freshly baked bread puddings come out of the oven. Their fragrance is intoxicating, bringing a smile to Ross Patterson's face as he helps prepare for opening.  
The Noodle Guy is a staple of the Annapolis Valley. Whether it's at the Wolfville Farmers' Market or their restaurant in Port Williams, the name of the institution is a familiar one. Seven years since their establishment as a small stall at the Farmers' Market, the restaurant has carved its niche in the Annapolis Valley.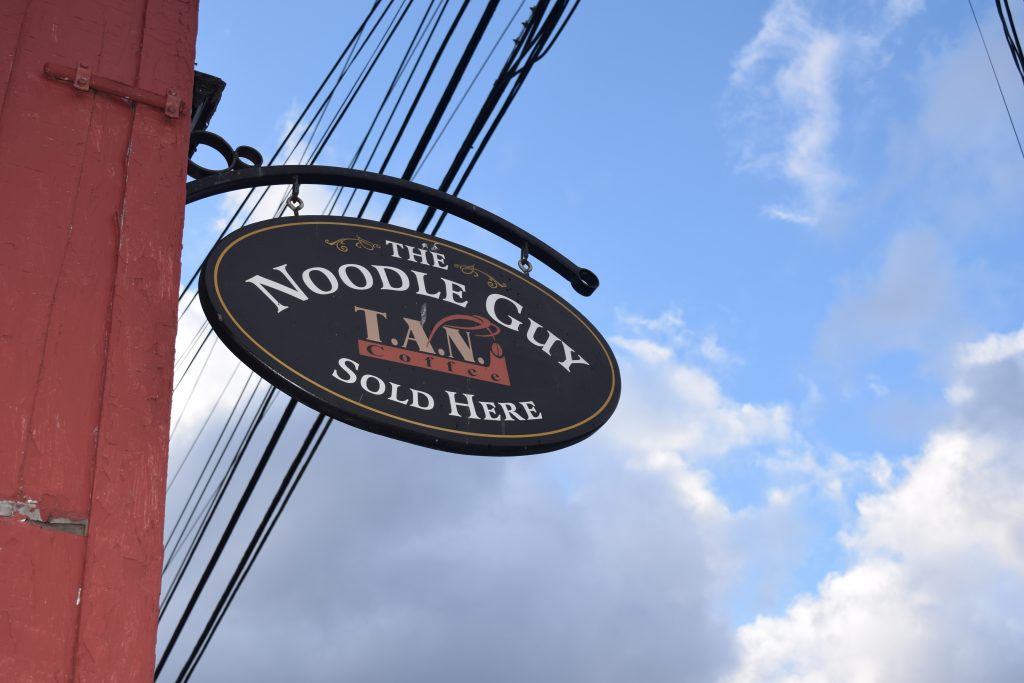 Ross and his wife Erin, who is the English, Music, and Theatre librarian at Acadia, moved here in 2001 so she could accept the position at the library. Ross began working at a restaurant where La Torta now is, but when it closed he decided to open a stall at the Wolfville Farmers' Market.  
"Right away you can't produce certain kinds of food without being in a commercial kitchen," he noted. The Noodle Guy began in a small shop next to the Tin Pan Bakery in Port Williams as a "boutique-level business" and has since grown.  
Space is important to Ross and his business. "If you're happy in your environment I believe that it'll come through in your product." The place beside the Tin Pan Bakery had lots of light, was not too big, and was close to Wolfville, the rent was cheaper. "All we did there was retail and the markets. We did have two tables of two in the front window, but very shortly we had to take that space to do prep."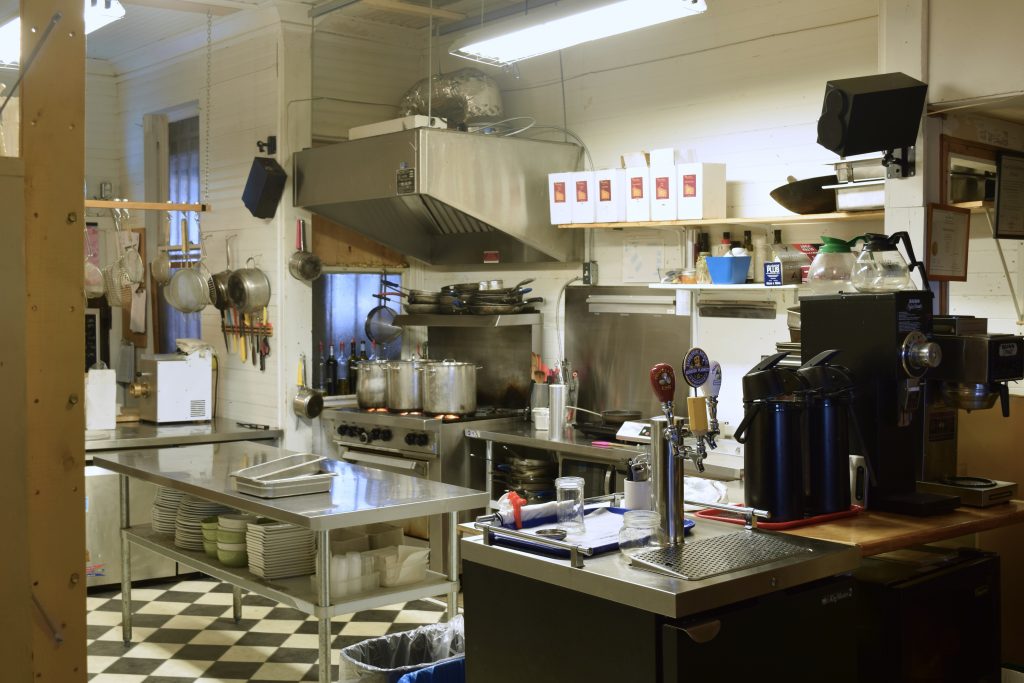 Ross began at the Farmers' Market primarily selling noodles outside. "I just wanted to make and sell pasta," he says. "If you want to talk to any of my employees here they'll tell you I never want a restaurant again. I had one before and it's a very tough business. If you do a little bit of research you'll see that, other than the Library Pub, there isn't a restaurant that has its same owners as it did 10 years ago."  
At the market, Ross wanted to see what they could do with their food. "We started making some dishes just so they could see it. Now at an average Wolfville Farmers Market we sell hundreds of orders of pasta every Saturday, which is a lot for a restaurant, let alone 56 square feet."  
The need for more space soon became apparent. Ross decided to move the business into their current space three years ago, which used to be the old Port Authority. Even the tables are made out of old apple boxes.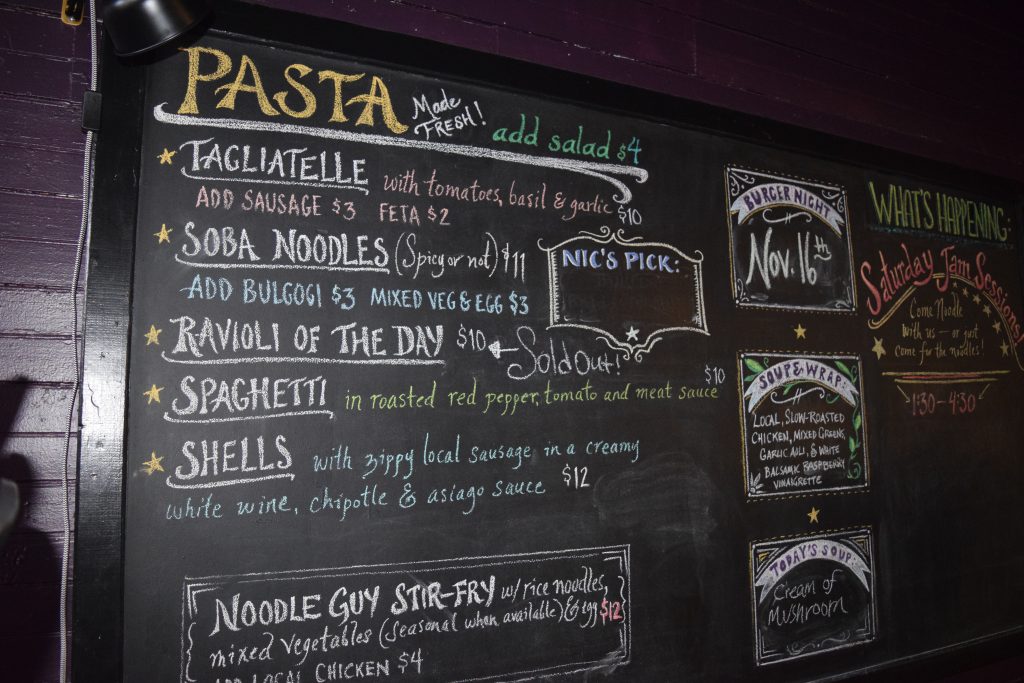 Earning a living wage is crucial to the success of The Noodle Guy. "Both Erin and I made a commitment that if we were going to employ people we were going to give them a living wage. The base has to be $15 an hour. It takes six months to get up to that and there's a raise in between. Between that and their tips they're easily making $20-25 an hour."   
It is the little things that allow him to pay his employees a living wage. "For example, you go up to the counter and place your order. It's just like a regular restaurant after that when we bring you your food, but that little difference allows us to have one less person so the wages can be spread evenly amongst the people that are here."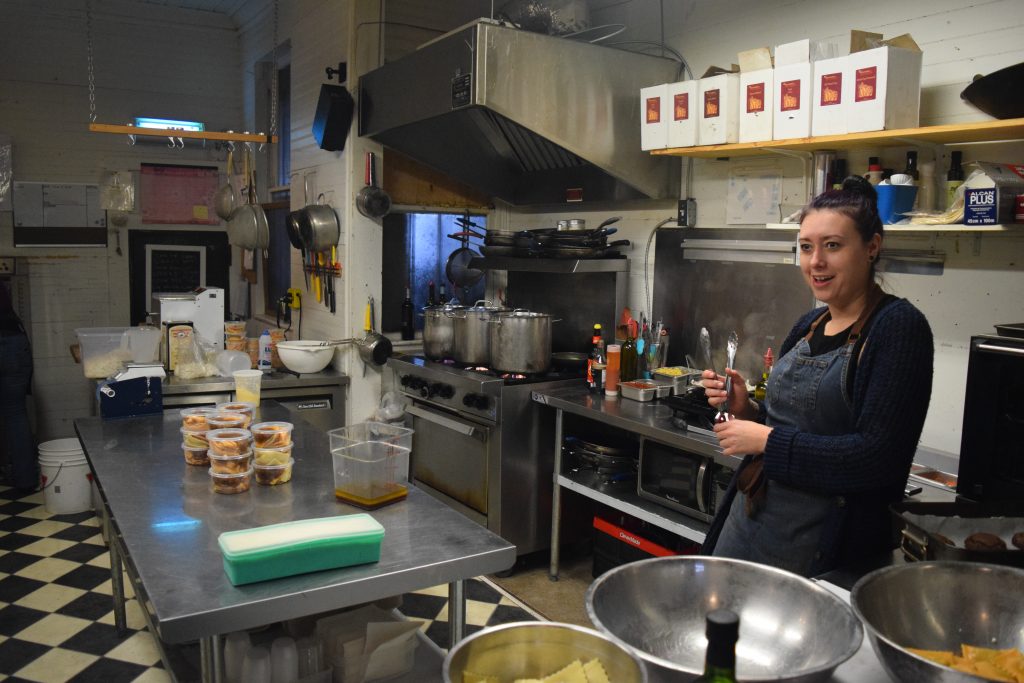 "If you take the attitude that when you pay people property they'll find a solution to help us be profitable, it's way better than saying 'we can't do it'. With that mindset we'll never do it."  
The Noodle Guy is not a pyramid but a wagon wheel. "Everyone does everything here, even the dishwasher knows how to make the ravioli. It doesn't matter if you're a high school student or a single mother, that $15 an hour applies to everybody."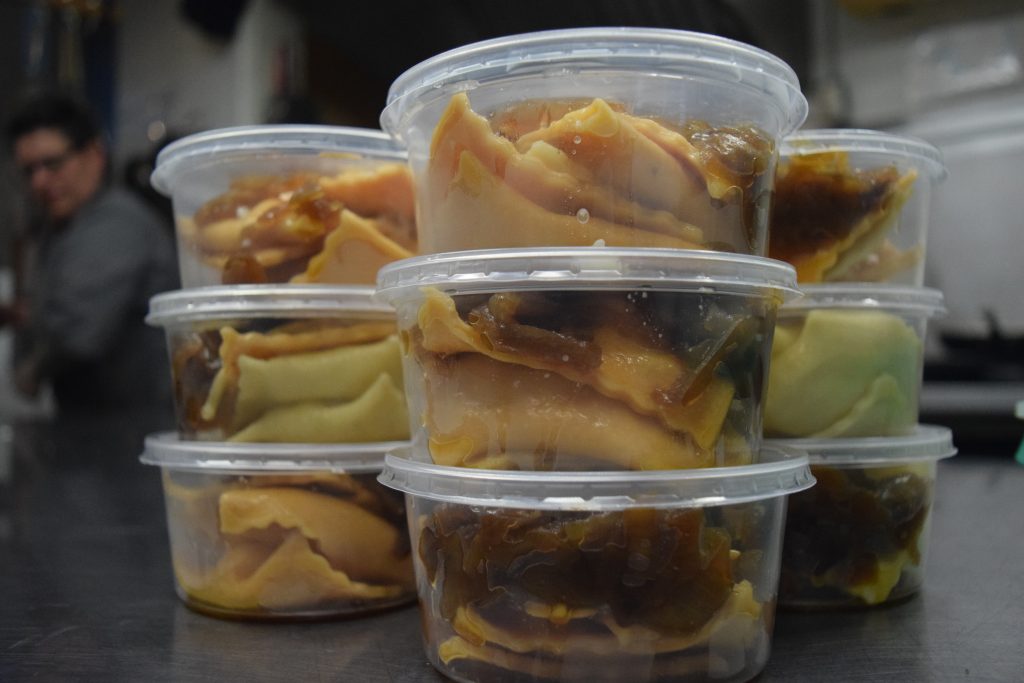 Ross smiles as he discusses his employees. "They're amazing," he says. "We carry a staff of 12 people, at least 8 of which are full time. It's because they're great. They do great things. I went from not wanting a restaurant to watching these people excel and flourish."  
The Noodle Guy has taken a central role in the community of Port Williams. In the past two years, they have a variety of initiatives at their Port Williams location, including Christmas concerts that raised more than $2000 for the local food bank.  
Burger nights have been the biggest success. "The burger night is a perfect case study on the success you attain when good people collaborate and solve your problems." Between the cooks they came up with the homemade buns and specific recipes for burgers, which change every week, and another employee took control of social media.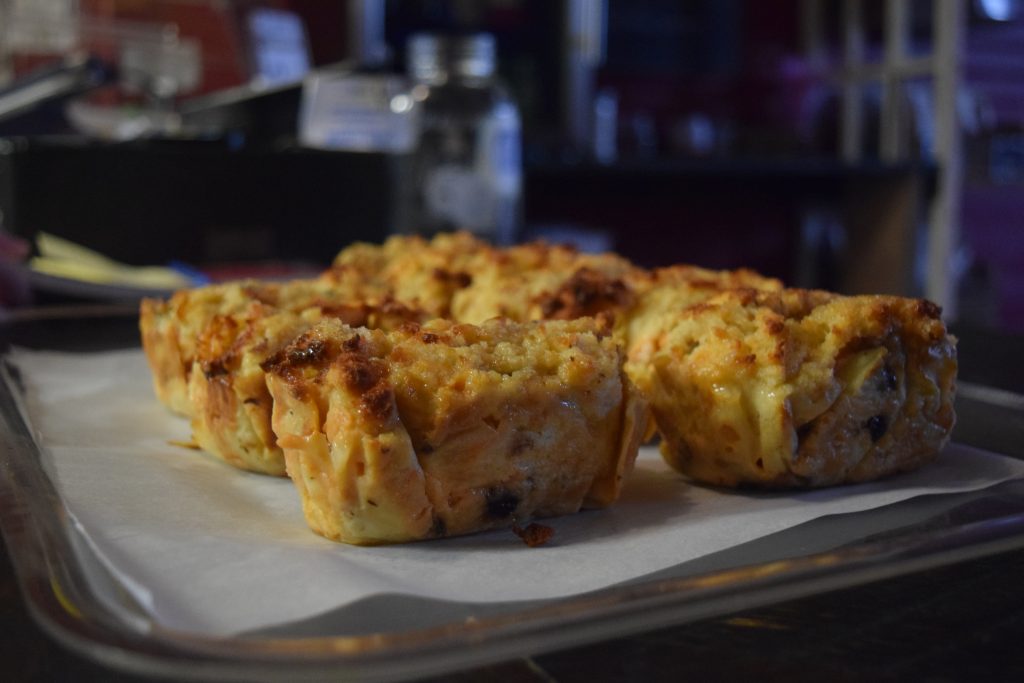 "A funny thing happened," Ross notes. "It became a community event. We see the same faces in here, and because we have family style seating we can seat people with people they don't know and they can come together. It's neighbours… Wolfville residents, even a gang of ladies that walked all the way over here from Wolfville to grab our burgers."  
Bounty from the County is another massively successful event. It is a 7-course meal that occurs only once a year for $75. "Apart from making sure that it's costed properly, it's entirely [the chefs that run it]" Ross says. Collaboration and ensuring that every member of The Noodle Guy community can be the best person they can be is crucial to creating the best possible business.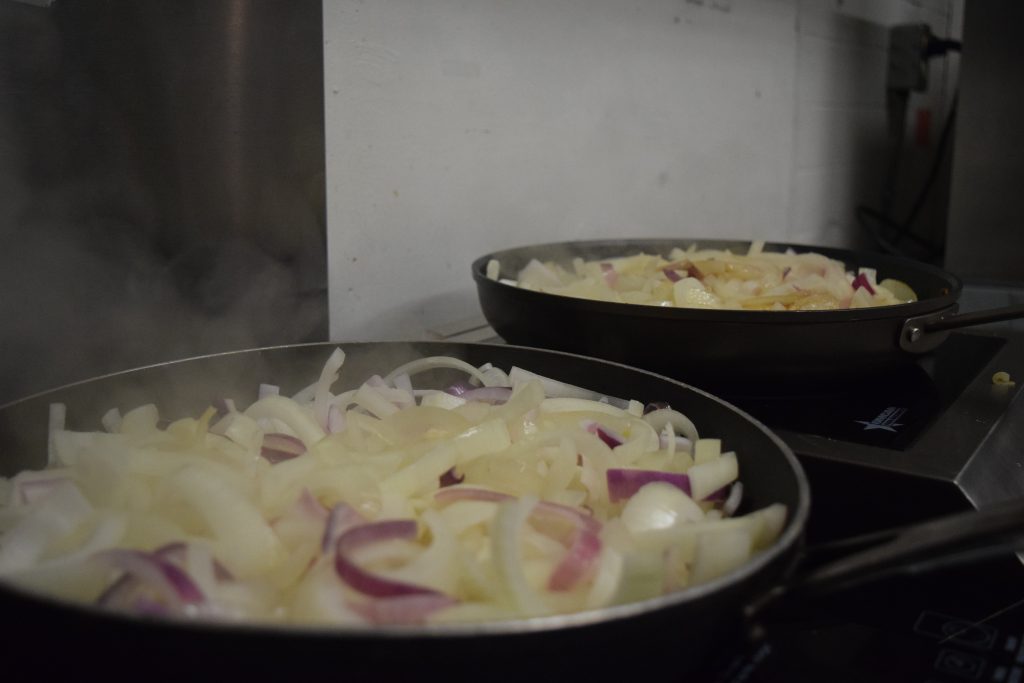 Ensuring that employees at The Noodle Guy could shop at the Wolfville Farmers' Market was important. "Local produce and vegetables sometimes cost a little more, but I happen to think that it's worth it."  
One of the things Ross is proud of is that the dirt on his floor is from the farmers he buys his produce from. Longspell, Taproot, are two major suppliers along with many smaller farms. "They don't just come in and drop off produce. They sit down and eat because they know we're using their stuff." The connection that is created between the farm and the table is one that is important.  
For Ross it all goes back to the idea of a living wage. "You can have the best people in the world working at your business, but if they have to worry about paying a cable or electric bill they're just not going to be the best people they can be."  
The prices at The Noodle Guy are value driven. High quality ingredients are used but the prices are still affordable for students. Ross envisions The Noodle Guy as a treat when times are tough. "I wanted people to say, 'I know things are tough, but maybe I can treat myself to this amazing garlic cork ravioli' when they come here. The beautiful thing is that the people that know that know it, and the people that don't know know it's good. Students in particular come because it's a little treat."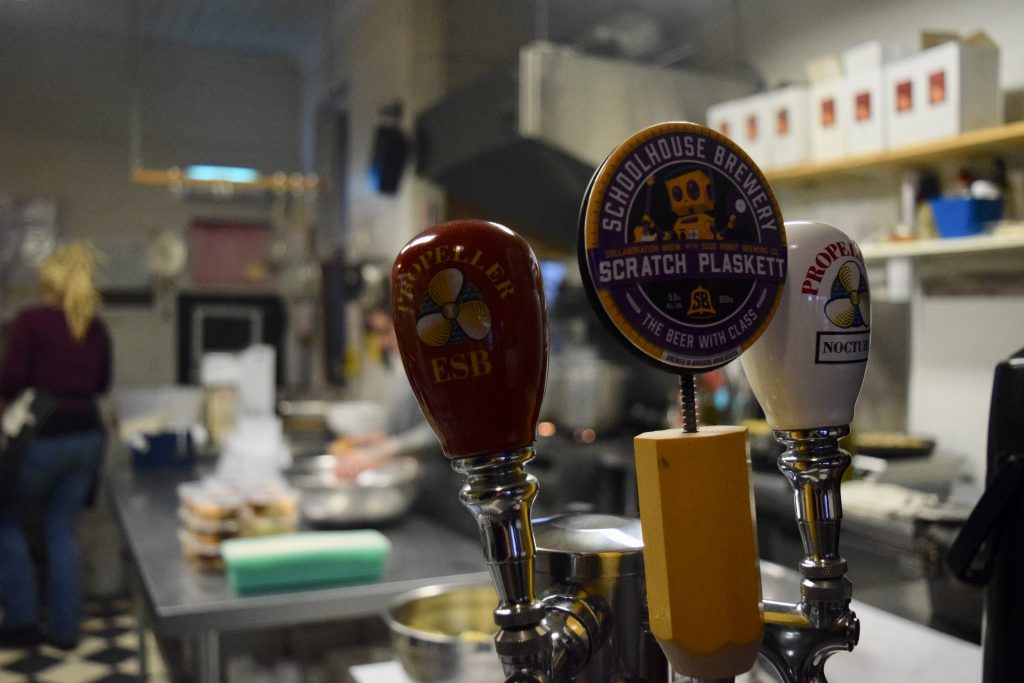 Students have been integral to the success of The Noodle Guy. Especially for students who are away from home for the first time, the opportunity to connect with a face behind the food is what matters. "I remember the first-year students came up to me, and some of them came up to me to say goodbye. I remember saying to Erin 'There goes our business'". That wasn't the case. One family who came in for lunch recently had their daughter graduate from Acadia years ago, but it was her recommendation that brought The Noodle Guy four more customers.  
Students are a renewable resource. The chain effect is crucial to the sustainability of the business as older students bring younger students to the booth or restaurant, whether it's in person or by word of mouth. This year in particular has been far more successful for the restaurant in Port Williams amongst students.  
"They've always supported me, particularly kinesiology students," he laughs. "I really don't know why."  
Feminism runs strong at The Noodle Guy. "It's called The Noodle Guy because it used to just be a guy making noodles, but the funny thing is the foundation of this place is incredibly strong women." 90% of the total staff is women, and the kitchen is 100% woman-run.  
Ross emphasized how it is important for women to make their mark in an industry traditionally dominated by men. The Noodle Guy is only one small restaurant, but giving women the opportunity to maximize their creative potential is one that is important to him.  
The success of the little restaurant in Port Williams has garnered national and international recognition. The Globe and Mail recently featured The Noodle Guy on their list of best places to dine in Nova Scotia, The Chronicle Herald gave their blessing from their top food critic, and the BBC came by to do a feature. However, Ross doesn't let the recognition get to his head.  
The long-term success of The Noodle Guy is something Ross has thought about. "I want to create an institution," he says. "I want there to be a Noodle Guy here when those students who came to me send their grandkids to Acadia. For some reason, we've struck a chord and I hope we can allow that philosophy of paying people properly to persist." 
"I can't change the world, but I can make a difference in ten to twelve people's lives."